Correction:  'Hebron High School' was incorrectly listed as 'Hebron Art Center' in the above video
Suzanne Hughes
USA
Richness Prize
Papermate Inkjoy Ballpoint Pen in Black, printer paper
"I used the February art dare as a way to fill small amounts of time in my classroom and at meetings over the course of four days. My approach was to use a single, simple, often over looked supply (ball point pen) and push myself to use only that to complete each drawing. I also wanted each square to be interesting in both composition and subject matter on its own."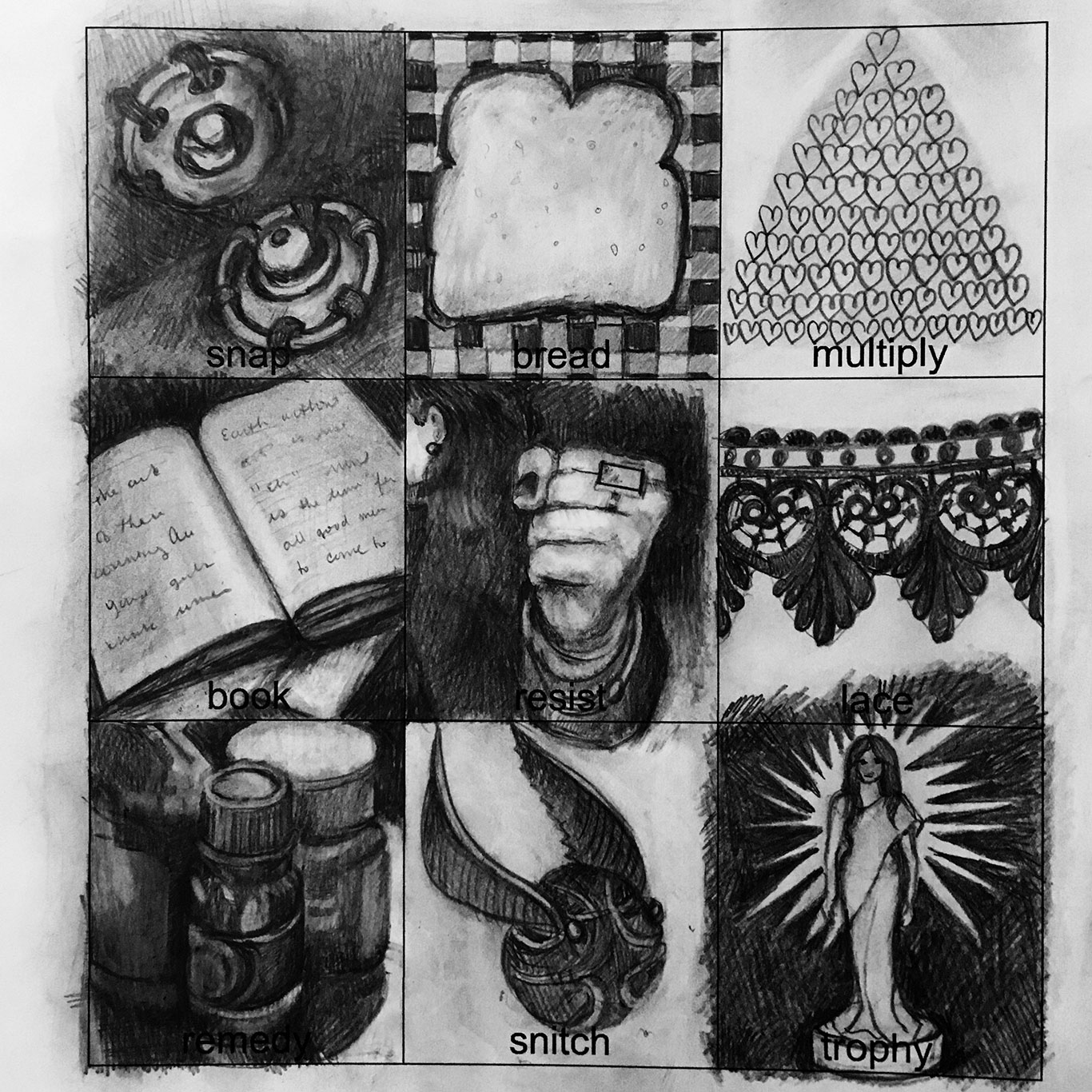 Honorable Mention

Pencil
"This piece was created on Bristol with a very soft dark pencil, pink pearl eraser and a lot of smudging! My favorite square is "resist" as I asked my daughter to model for me and this was her response! The slice of "bread" sits on a square from my patchwork quilt, "snitch" from Harry Potter and a "trophy" is a trophy wife.   "Snap" "lace" "book" and "remedy" were drawn from items in the room around me and "multiply" was an inspiration from Valentine's Day. (Right around the time I did this project!)"
Diversity Prize

Uniball white gel pen, Micron pen 005, Lead pencil, Sharpie, Fantasia Color pencils, 
Le Pens, Expo white board marker. 
"I loved the Art Dare for the month because it was something different and I loved  

working in the smaller spaces. It also allowed me to think outside the box and think 

of creative ways to depict the words rather than to take them at face value."
Corinna Loeckenhoff
USA
Technique Prize

linoleum cut
"I just started creating art again after a long hiatus due to job and family responsibilities. More than a decade ago, I did a series of mini lino-prints for another project. I noticed that the motives matched some of the words in the February art dare which inspired me to carve the missing ones for a complete set. It's nice to work in such a small format because I can't get obsessive about details, and if I like the results I can easily turn them into postcards for friends."
Anonymous
USA
Innovative Thinking Prize

Uniball white gel pen, Micron pen 005, Lead pencil, Sharpie, Fantasia Color pencils, 
Le Pens, Expo white board marker. 
"The way the boxes were laid out on the page made me think of a comic strip; all I had to do was coax a story out of those nine words.  I did try to move the camera around, get different points of view by zooming in and out in order to illustrate each word more dynamically while keeping track of the narrative at the same time."
Emma Heyes
Australia
Honorable Mention

Artliner pen
"I found this art dare really challenging – I was quite resistant to doing it at first. I felt restricted by the straight lines and the words and the font. But I was determined to complete it, and after looking at all the charts 4 or 5 times each, the words on this chart created this story in my mind, which I drew."
"Most of the past Art Dares haven't fit into my curriculum, but the February Art Dare worked beautifully with my Freshman Drawing 2 class.  I had also conveniently finished my own February Art Dare so I had a handy example.  For my directions, I explained what the Art Dare was and who was hosting.  I discussed a few approaches to accomplishing the objectives of the dare and turned the students loose.  They had a week to work on the three sheets and almost everyone delivered!  I have one of the best Freshman Drawing 2 classes that I've had in a long time and they took off!  It's fascinating to see the various ways that the student approached the subject matter and choices they made.
I had a very hands-off approach for direction, as I didn't want to influence them to heavily beyond suggesting they think 'outside the box' and seeing my own work!  I'm very happy with the results!"
Links on this page are Amazon affiliate links that Artprof.org earns from qualifying purchases.