Britta van Aalst
Germany
graphite
"In 2015, I graduated at the Academy of Art in Maasmechelen in Belgium in drawing, painting and art history. For 10 years, I live now in Germany. I'm married with two kids.
Before the school, I worked as a flight attendant and medical assistant. I experiment with photography, drawing, glass, paper, textiles and metal."
Dyllon Wolf
USA
graphite
"'I'm a high school student whose main artistic expression is photography. However, I have taken many art classes in school that include drawing and painting. This first Draw Along was very helpful in many ways. Prof Lieu taught me that my drawings don't necessarily need to be perfect and I should loosen up more for these types of gesture drawings.
I also learned the importance of creating balance in my drawings, whether through detailed and vague or through light and dark values. I am looking forward to future Draw Alongs and I hope others are learning as much as I am."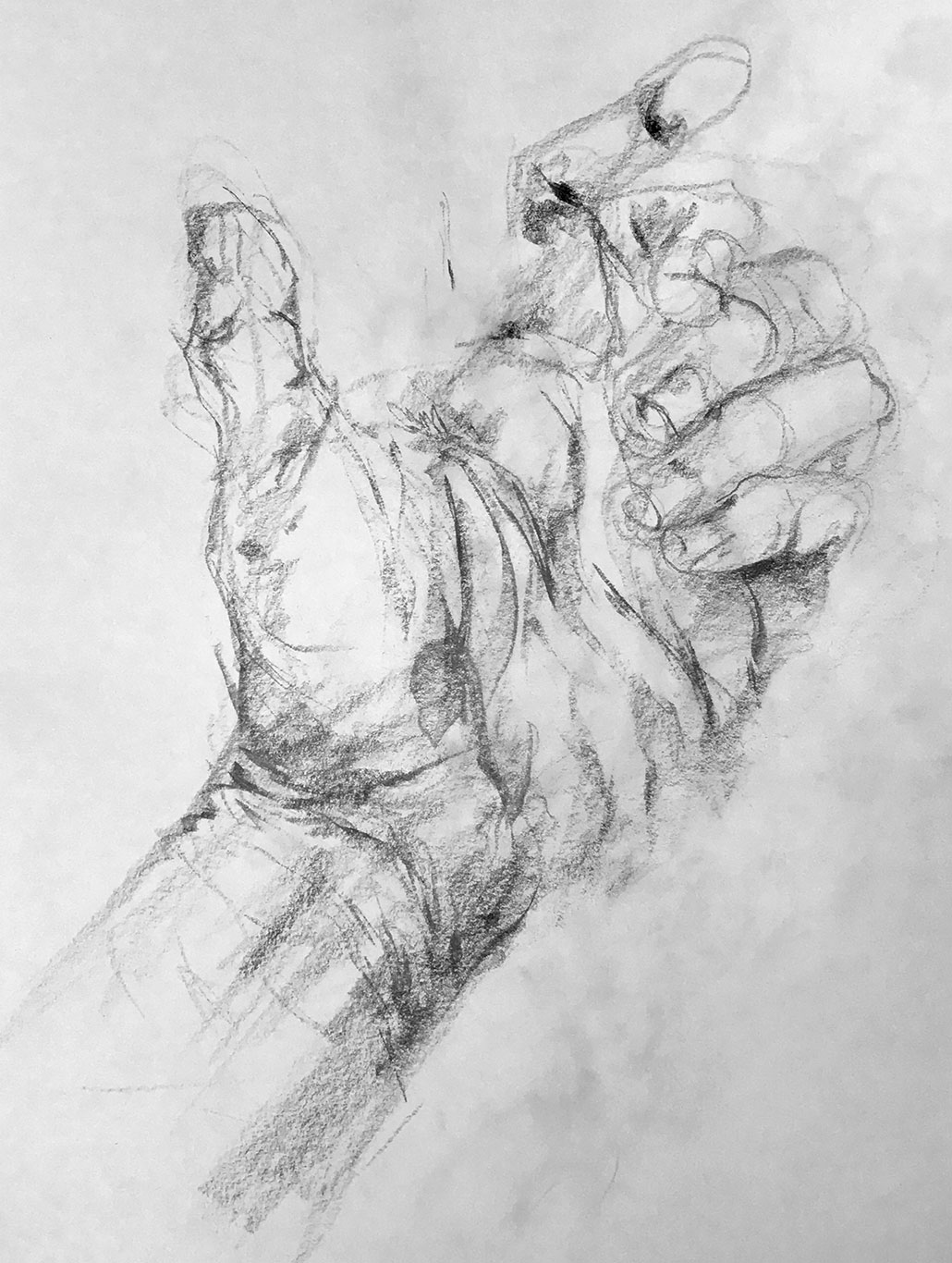 @maryolaz
Cypress
ink pen
"I was once told by my first art teacher that whatever I do with my life I will end up back in the arts. This has haunted me ever since. I have been drawing for the biggest part of my life, then came a long hiatus, and I recently started drawing and painting again.
Participating in the Draw Along gave me such good insights into art and also gave me the necessary inspiration and push to keep going."
Afra
Argentina
graphite
"I'm an art teacher and a freelance illustrator from Argentina. I believe we're learners all our life, and that idea motivates me to keep searching for new ways of creating and also for ways of connecting with artists and art teachers from other countries. That's how I found the ART Prof platform!
The Draw Along was great because I felt part of a 'worldwide class', all of us drawing at the same time, with the privileged chance of asking questions live. I learn a lot from reading the careful and detailed manner in which the Art Prof team gives feedback about the various pieces. I can see the commitment each of them devotes to this project, and that's amazing."
graphite
"I have always loved to draw hands, to me, they are one of the most visually expressive parts of the human figure. From what I've observed in my drawing classes, hands are really challenging for people to draw because it's a complex structure of bones, tendons, and muscles that can get confusing really fast.
When I draw hands, I always search for the knuckles on the back of the hand as a landmark for me to reference. On the front of the hand, I look at the largest masses of the palm to provide a starting point.
I really enjoyed this Draw Along because I started by simply observing my hand, but the more I warmed up and loosened up my drawing technique, the less glued I felt to the hand itself, which let me get much more adventurous with the image. (hence, the hand that has 6 fingers!)"