Thick, sturdy, water-based paint which can be watered down to create effects like watercolor. Dries quickly, don't let it dry in your brushes!
Pulls and stretches the canvas. Prevents you from having to use your hands. If you try to stretch large scale canvases without canvas pliers, your hands will hurt! Not necessary for small scale canvases.
Transparent primer for acrylic and oil painting. Especially effective on wood, where the wood grain pattern shows through.
Creates a gritty, textured surface to acrylic paint. Make sure the grounds are dry before adding to the acrylic. Can be added in different ratios to the acrylic paint to create a range of textures.
Wax-covered paper to be used as a palette. Tear-off for easy storage and very fast clean up.. You can control how large your palette is, make it small or very large!
For priming canvas, paper, and more! Acts as a barrier between the raw surface and paint, which is important for oil painting since oil paints will eat through raw canvas. Varies on consistency and texture depending on the brand. After drying, can be sanded for a smoother surface.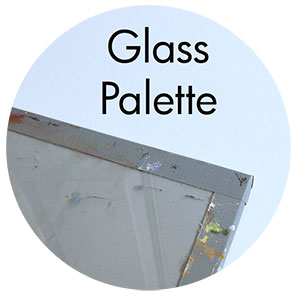 Extremely easy to clean with a window scraper. Can be used for either acrylic or oil paint. Make it yourself with foamboard, a sheet of grey paper, a sheet of glass, and duct tape. Very sturdy, stable surface to mix paint on.
Sensitive surface for oil painting. Usually applied after a coat of rabbitskin glue has been applied to the raw canvas. Applied to the canvas with a palette knife due to it's thick consistency.
Better than mixing your paint with a brush.  Great for creating textures and depth. Offset blade makes for easy handling. The best shape is the one that works for you!
Stretches the canvas very tight. Use the exact measurements on the package. Overnight, the rabbitskin glue will set like jello, never reheat. Clean your brush right away after applying rabbitskin glue, or it will harden the brush bristles.
Slow down the drying process in acrylic paint. Dilutes the paint, makes it more transparent.
Terrific for storing small bits of art supplies & for storing acrylic paint mixtures because they have lids. Good for mixing ink wash gradients.
Fill the tank with your solvent. (we recommend Gamsol)To clean your brushes, press your brushes against the metal coil. Since the metal coil is raised, your brush never has to touch the bottom. The crud will settle to the bottom.
Great for paint tubes that are almost empty. Lets you squeeze every last drop of painting out of the tube.
Links on this page are Amazon affiliate links that Artprof.org earns from qualifying purchases.