Intro to Basic Gouache Painting Techniques
May 3, 2019
We're super excited to release our new gouache tutorial with myself and Teaching Artist Alex Rowe! We shot this tutorial way back in September 2018, and it was definitely one of our more complex videos to produce. There are so many steps of the process shown in the video:  brainstorming, sketching, shooting reference photos, technical information about gouache, colors, brush techniques, layering, underpainting, glazing, and much more!
A large part of the tutorial talks about how to shoot reference photos on site, and then how to manipulate and transform those reference photos within the context of the finished painting. I get sooooo many questions about how to use reference photos, and it truly is a very particular skill that can be really tricky to figure out. What we try to emphasize in the tutorial is piecing together several reference photos that are based on a thumbnail sketch drawn from imagination, as opposed to picking one reference photograph and copying it verbatim.
Alex and I had a lot of fun wandering around the Sleepy Hollow cemetery in Concord, MA doing visual research for putting together his gouache illustration. Although most of our videos are shot in the studio, we are always looking for excuses to shoot on site to diversify our video content.  Given that Alex chose to illustrate the legend of Sleepy Hollow, this cemetery seemed conveniently perfect. Alex also contextualized the illustration as a book cover illustration, talking in depth about how to arrange the image to fit the format of a book cover illustration.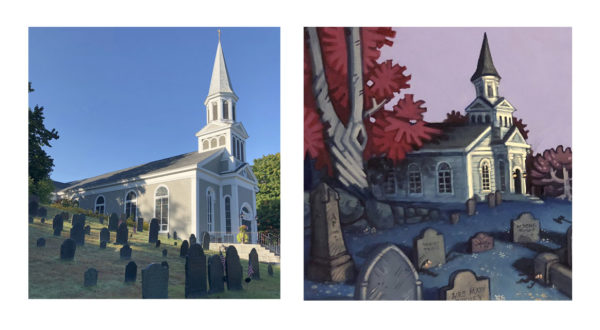 You can see in the above image how Alex referenced the architecture of a church we found, but that he completely changed the lighting situation and color scheme in the final gouache painting. When I get to be the "student" in one of our tutorials it's super fun.  Not only is it less responsibility, but I get to learn by observation, which is super fun.  I always thought of gouache as a very tight limited painting media (we explain in the tutorial that gouache is notoriously used for tedious color charts in art school) but after watching Alex's tips and tricks I can now see it's visible potential and flexibility as a painting media.
More tutorials coming soon!  Stay tuned for our Creature Design and Character Design tutorial, featuring Guest Teaching Artists Cat Huang and Julie Benbassat.
-Clara