1.
Pick a "Metropolitan Diary" article. In this case, the article is "Veteran of the Crowded Car."

"Dear Diary:
I was on a crowded subway car in the middle of the day. The doors opened, and an older gentleman got on. He was carrying two heavy bags.
He navigated past several people, and then managed to grip one of the poles. He leaned the bags against his leg.
I kept an eye on him…"
3.
Measure out several rectangles small enough to fit on a single sketchbook page that is about 9″ x 12″, and equal to the number of paragraphs in your chosen "Metropolitan Diary" entry.
In each of these thumbnails, lightly sketch the main idea of each paragraph.
4.
Pick which sketch best illustrates the article.
"This project was rewarding but challenging; I tend to enjoy illustrating editorial and narrative writing, but choosing a scene from the "Metropolitan Diary" felt like a daunting task due to the unlimited options I seemed to have.
I read quite a few "Metropolitan Diary" articles before I chose one called "I Love Your Hair!" and even then I had to create many thumbnail sketches to narrow down my selection. Once I chose a scene, I had fun drawing the character I had imagined in my mind. I used a variety of reference photos to refine this sketch and put the character in an environment, which is a skill that I have been wanting to practice.
After inking the drawing, I used markers to add shading. Normally, I would use ink, but the assignment required markers, so I compromised by using a water brush to blend out the marker. Overall, I enjoyed this project and learned a lot!"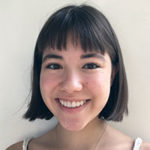 "The article I chose was about a person who would hear a trumpeter out their window from below, and one day they played the opening song from "The Godfather.' They wrote that suddenly they could see a black screen, with the words "Paramount Pictures Presents" fading in and out as the first lines of the film were spoken.
This was a really fun assignment because it pushed me to really think about the best way to communicate an idea that is not my own."
Links on this page are Amazon affiliate links that Artprof.org earns from qualifying purchases.