Prompt
Create a portrait of a place using video.
Supplies
Video Camera
Camcorder, DSLR, smartphone, or tablet with a camera.
Video editing software
If you're working on a computer, options include free software like iMovie and Windows Movie Maker, or higher end products like Adobe Premiere. If you're working on a phone or tablet, try a video editing app like Splice from GoPro. (which is free!)
Process
1.
Pick a place you find interesting and set up your camera. Remember, some locations may require permission to film in them!
2.
Record your surroundings. Keep an eye out for interesting movement and interactions around you. People laughing, traffic lights changing, feet walking down a hallway, cars zooming past on a highway, etc. Try and use different kinds of shots to keep things interesting!
If an action you're filming is repeating, try and get different kinds of shots every time it repeats, so later you can try editing them together into a sequence.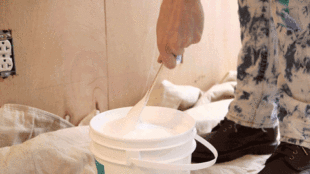 3.
Upload your footage to your editing platform of choice. Arrange your footage into an order that makes sense, thinking about which clips flow well into one another.
4.
Export!
Fades
Create a sense of time flowing past by using crossfades to transition between clips.
Continuity
Build a sense of continuity by connecting the clips documenting the same event in sequence.
Jumpcuts
Jump cuts create a sense of immediacy.
Fast
Vary up the lengths of your shots. Short clips shown in a rapid sequence create a sense of elevated energy.
Long
Long, uninterrupted shots are more observational and slower.
"Ever since I was younger, I always imagined myself filming or creating a movie based off the spaces around me. Now that I have actually done it, composing and executing a few second short film of a space is a lot more challenging than I expected.
I tried to work with what I got, which was my friend's messy bedroom. Their closets were opened, shoes were all over the place, and the only thing that opposed the messy space was my graceful cat. It was super fun to record her reacting to the surroundings of the room, as well as our insanely loud laundry machine which was running downstairs.
What was most challenging had to be the timing and transitioning of certain sequences. It was hard not to record the same thing over and over. I also realized how crucial timing is while I was working, and how difficult it is to make it work well all together as a small film. I was almost tempted to force my cat to do things in the film to make it more interesting, but I decided to make her reactions all natural."
"I'd been planning on attending Washington D.C.'s March for Our Lives for a while, and I knew I wanted to document that event that would go down in history; the Portrait of a Place project was perfect for that.
I wanted to capture the atmosphere and environment of the rally—the wind, the chilly weather, the background noise, the bustle of people—not just the typical crowd shot that can be found anywhere on the Internet and social media. I walked around weaving my way through the crowd while filming, which was a really interesting experience in itself, especially because I got to meet a lot of different people whose signs I wanted to include in my video.
Since it was so cold out, I struggled a bit to keep my phone camera steady, but luckily iMovie has a "Reduce Shakiness" option. The most challenging part for me was having to select clips to include in the final cut; by the end of the rally, I had almost 50 really interesting videos in my photo album which I had to narrow down into a 10 second portrait.
The March featured many presenters that delivered moving speeches, so selecting background audio was an important process for me too. I ended up deciding to focus more on the crowd's response and chanting, as well as include some more local level sounds of footstep shuffles and banners flapping in the wind."
"As a movie fanatic, I often find myself paying more attention to the cinematography of scenes, the angles of shots, the zooming, more than I do to the actual story. There's a lot of precision required in framing a shot and it not only helps convey the plot, but set the mood of the setting, as well.
On my visit to China, I thought this project would be best done in an unfamiliar place, that while I explore, so will my camera. I struggled getting footage because my tripod was very bad, often times I end up just used my hands, making the shots rather shaky.
Importing into Movie Maker, I had a hard time finding a logical flow to all my clips. They all had so much potential so it's always difficult for me to choose what's important. The final product still came out, after several crashes, and I think it really conveys the whimsical mood of the park. I liked this project a lot because I could explore a variety of transitions and camera angles– variety is my favourite thing!"
Links on this page are Amazon affiliate links that Artprof.org earns from qualifying purchases.