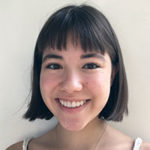 "While I have a little experience with charcoal, every time I use it I discover something new about the medium. For this project I pressed my face into saran wrap, and this made me experiment with trying to convey a different texture to my skin. I really wanted to focus on making the piece dynamic, because often my work can look very stiff, which is something I want to work to avoid.
There were steps to this process, and like in the tutorial video I created a bunch of thumbnails to establish the composition of the piece before moving on to the big sheet of, paper. I used vine charcoal, compressed charcoal, and lots of erasing!"
"Although I've done some limited self-portraits in charcoal in the past, charcoal still isn't a medium I'm very used to nor good at. While making this piece, I encountered a lot of frustration and dissatisfaction as I was in the process of developing it. My natural tendency as an artist is to get really hung up on details, and lose sight of the larger overall dynamics of the picture by moving in too quickly.
However, that made this project all the more a fantastic and much-needed learning experience for me to break out of my comfort zone and develop artistic areas where I need the most improvement."
Links on this page are Amazon affiliate links that Artprof.org earns from qualifying purchases.