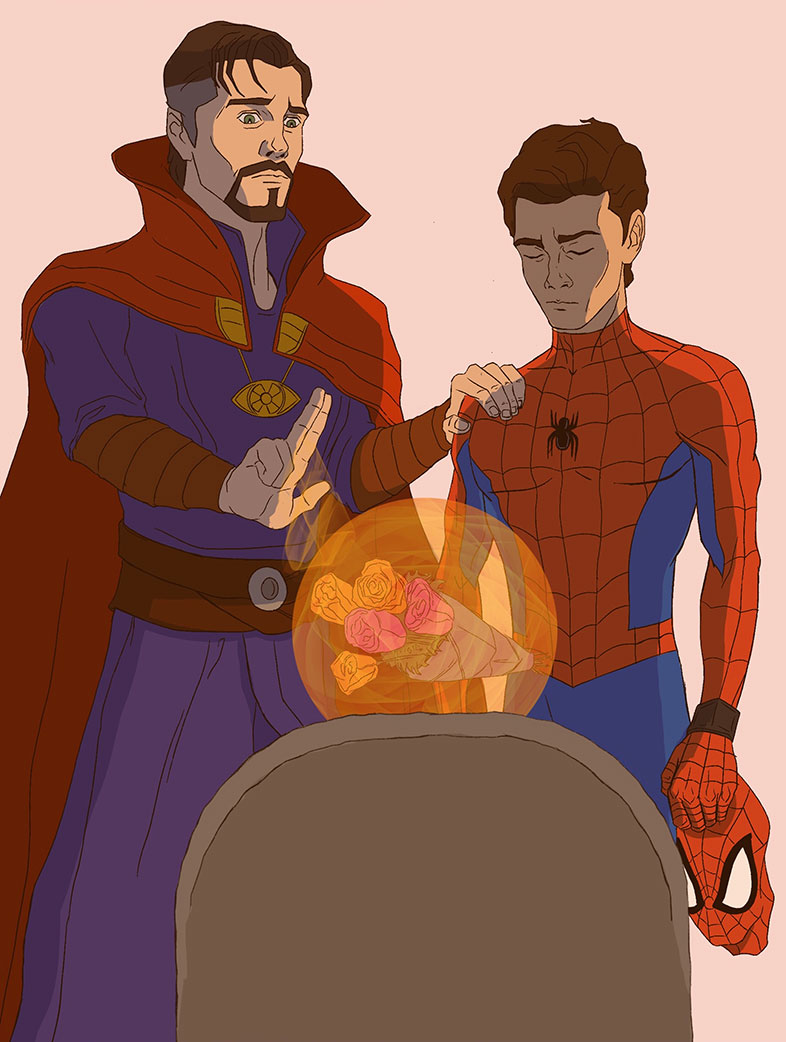 Prompt
Using a New York Times article, create a piece that where the first half  of your process is created using traditional media and the second half is created with digital media, or vice versa. 
Supplies
Any traditional 2D media + digital media
2.
Brainstorm your ideas by doing a mind map. Start with either digital or traditional media.
3.
Create thumbnail sketches to plan out your composition, make your sketches diverse and different from each other.
4.
Take your sketch into the next stage by doing a loose drawing. If you started with digital, finish with traditional, and vice versa.

6.
After you clean up the line drawing, lay in some flat colors or values.
7.
Add the final touches and details to your illustration.
"I based my illustration on a New York Times article titled 'Trump's Immigration Policies Explained,' that discusses Trump's immigration policies. I wanted to convey the irony in how many right wing Americans believe that immigrants are lazy and unethical. But in reality, those people are usually the ones taking beach vacations in South America. 
Converting it from traditional to digital was actually the most difficult for me. I had felt for some reason more committed to following my sketch even if it was more proportionally off. This project however was very eye opening and inspires me to make more politically driven art in my future works."
"I chose an article called 'Looking Through the Eyes of China's Surveillance State,' which discussed the overwhelming abundance of 'almost Orwellian-like' surveillance and borderline invasion of privacy in China.
I wanted to display the pressure of a million eyes constantly watching you, as well as the rigid political nature of the country through the very stylized edits I made to my traditional media on Photoshop."
"The article , "Kids Don't Just See Art at This Show. They Work With the Artists, Too," was about how artists were holding art making workshops for children in museums, and I thought that would be something fun to illustrate.
Although at first I wanted to draw lots of children and artists together, I decided to go with a simpler design after a critique from my peers. I think the decision to make the design more simple and more correlated to the main part of the article, children making art, was a great idea and I'm happy that I was able to get that feedback."
Links on this page are Amazon affiliate links that Artprof.org earns from qualifying purchases.