Prompt
Use continuous lines to draw every figure that enters a public space.
1.
Pick a public space with a lot of people, such as a coffee shop or mall food court.
2.
Find a comfortable place to sit. Choose a spot where you can see lots of people.
3.
Set your alarm for 30 minutes.
4.
Using a single, continuous line for each figure, draw every person who enters the space. Use quick, general marks to capture their motion.
5.
Do not draw the background. Instead, draw the figures in the distance much smaller than the figures that are close to you.
6.
Draw until your alarm goes off, or until you've filled a spread with about 7 – 10 figures of varying sizes.
7.
Reset your alarm and switch to a different pen. Draw any new people entering the space into this same spread, on top of your previous drawings.
8.
For seated figures who haven't moved between drawings, overlap your second sketch on top of your first, and get more specific with your lines!
9.
Draw until your alarm goes off. Repeat with a third pen, or start a new spread.
"I actually did this at a couple of places and noticed that people repeat the same couple of postures and actions but everyone has their little quirks to it so that the same position looks different. This is especially exciting to capture.
Rendering the figures in one single line and controlling their sizes are challenging to me at first, for I am usually more used to very detailed and delicate micron pen drawings; but in the end, it really helped me loosen up and focus more on what I see than what I am drawing."
"In a nutshell, this project provided me with a socially acceptable form of people-watching. 
It was challenging to capture each figure that entered the space accurately because some were moving so quickly, so I decided to focus more on the motion of the figure instead of the proportions. In the end, I think I made the right choice; my piece looked much more interesting and had a very fluid movement to it."
"I challenged myself by drawing moving figures in the famed Seattle Pike Place Market, a heavily trafficked sight. There, I found a bench near the intersection of many sidewalks and crosswalks.
Nobody would cross my sight for more than 15 seconds, causing me to slowly begin to fill in the figure as quickly as I could based on the faint image lingering in my mind. It got easier as I went on to capture the big parts of the figure and fill in the nitty gritty based on what I remember and what it would logically look like."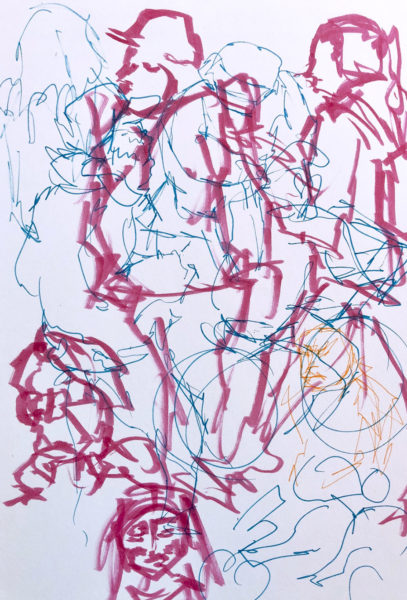 Links on this page are Amazon affiliate links that Artprof.org earns from qualifying purchases.