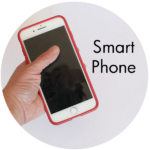 Optional Supplies
The supplies listed below are nice to have, but are not required.
"I took Deepti's advice and purchased a vegetable with the greatest flesh to skin contrast, an acorn squash for $1.45/lb. GREAT CHOICE.  I used some linoleum cutting tools I was using for a print project.
Finally, I started the animation. iMotion is was luckily extremely easy to use, very user friendly and bug free. However, it was difficult to decide what to put on each frame, as the motion is not truly apparent until the end. I just decided to allow myself to zone out a bit and carve/paint chunks, take a couple photos in between, and hope that it turns out fine in the end."
"This was my first time doing animation, and I am so glad to be able to start my animation journey on a 3D object. Something I immediately thought about was the season of fall, so I attempted to use a gold paint marker on an apple.
I loved playing with simple shapes and being able to freely experiment. Allowing my mind to wander throughout these shapes was awesome, and I loved the spontaneity and creativity of this project."
"I had absolutely zero experience with animation before this project, but even as a complete novice I was still able to create something interesting. This project definitely provided me with a better understanding of stop motion animation.
I especially loved how home-friendly and simple the project was. All I needed to do was grab a grapefruit from my fridge and a kitchen knife and carve away."
"While I have experience with animation, it has always been two-dimensional. Animating on something round and that I could hold in my hands was a new, fun challenge.
Last spring my family and I built and planted a vegetable garden, so throughout the spring and summer I've watched the veggies grow. This project made me realize that you don't have to head to the shops to find your canvas- you can find one anywhere!"
"This course was an enjoyable interlude from my usual art making. As someone who has little to no experience with animation, it was nice to experiment with a low-pressure exercise. Learning how to use the iMotion app was enjoyable, and I will probably use it again for future projects since it was so convenient to use."
"My mother has a garden full of these squashes and gourds, and they were right on hand for this tutorial. It made me realize that inspiration and materials can be a lot closer at hand than you think.
I believe anyone of any age and experience can have fun with this project! The resulting vegetable with the animation on it can also be a decoration around the house before it expires, and I'm definitely putting my squash in a place of honor."
Links on this page are Amazon affiliate links that Artprof.org earns from qualifying purchases.