Our Fantasy Illustration: Creatures Track will provide ideas and techniques that will push you to invent fantasy creatures using a range of references and resources. We'll cover brainstorming, how to use reference images to create convincing creatures, and essential techniques like texture, skeletal structures, lighting, color, and more. This track is excellent for anyone interested in illustration, comics, animation, character design, and narrative paintings.
Visit our illustration and animals sections for more related content.
Pacing
Do the track at your own pace! Taking the time to process the content is important, so we don't advise putting pressure on yourself to finish the track quickly. Remember to have fun and enjoy the process of learning!
Share your progress
Post your progress as you go in the #artprof-tracks channel in our Discord, you'll get support and feedback from the community! Tag us @art.prof on Instagram with #artproftrack so we can share your work.
---
Art Supplies
We understand that many people have limited budgets for supplies, so our tracks are structured so that you can use any materials you want, within that track's focus.
Paint Media
Visit these pages for supply lists: watercolor, gouache, acryl gouache, oils, water mixable oils, acrylics.
Drawing Media
ballpoint pen/gel pens, dip pen, brush pen markers, Caran d'Ache crayons, graphite powder, colored pencil, soft pastel, oil pastel, pencil, charcoal, ink wash, scratchboard, wet charcoal, oil sticks
DIGITAL SOFTWARE OPTIONS
Procreate, Krita, Adobe Photoshop, Clip Studio Paint, Paint Tool SAI, Adobe Fresco, MediBang Paint, Gimp
---
Lesson 1
Prompt
Combine a plant and an animal to invent a creature.
Lesson 2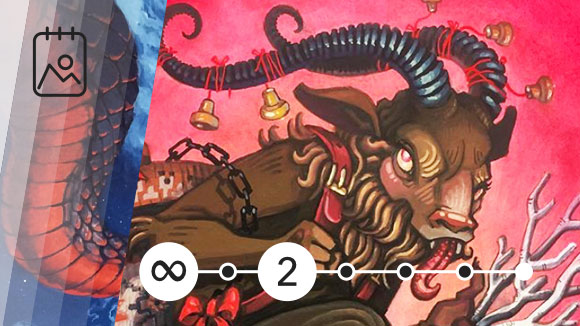 Prompt
What does HALTWE have to do with illustrating a creature?
Lesson 3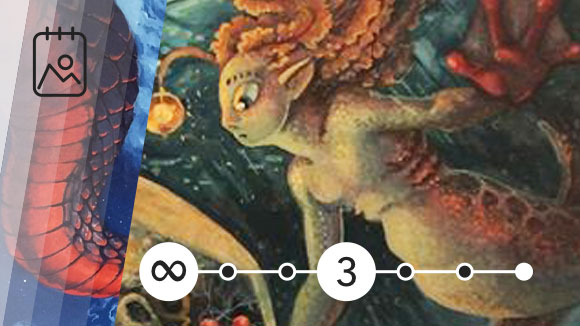 Prompt
Place a creature from mythology into a contemporary setting.
Lesson 4
Prompt
Invent a creature using vegetables and fruits as reference.
Lesson 5
Prompt
Choose a poem about a creature and illustrate it, including the poem from the text.
Lesson 6
Prompt
Create an artwork that portrays you as a fantastical creature.
Finished?
Submit your track images + info via this upload form.
You can choose to receive a hard copy certificate from us via snail mail. (this includes international people)
We'll feature your track work in an Art Prof Share segment in one of our live streams on YouTube.
We'll post your name, a link of your choice, your slideshow, and video feature on the corresponding track page in our student gallery area.
---