I am an artist, educator, and writer. I spent 16 years in academia, teaching at the Rhode Island School of Design as an Adjunct Professor.
I became frustrated over the years with the lack of access to art education for so many, the elitist attitudes so prevalent in academia, and the constant exploitation of adjunct faculty.
In 2014, Art Prof felt like a "pie in the sky" idea, and it's been incredible to watch our community grow over the years! I left academia in 2020 for good to focus on Art Prof full-time.
When I started Art Prof, I had zero experience with video editing and production, and today I am a one woman production studio for all of our video content.
Art Prof is the most challenging, exhilarating, and inspiring project of my life, and I'm grateful to be able to share with you my love for the visual arts.
Artist Statement
Exploring the extremities of human emotion, I use the human figure as a vehicle for expression in multiple techniques in drawing, printmaking, and sculpture.
I have a lifelong obsession with the human face, and its infinite capacity for extreme emotional expression.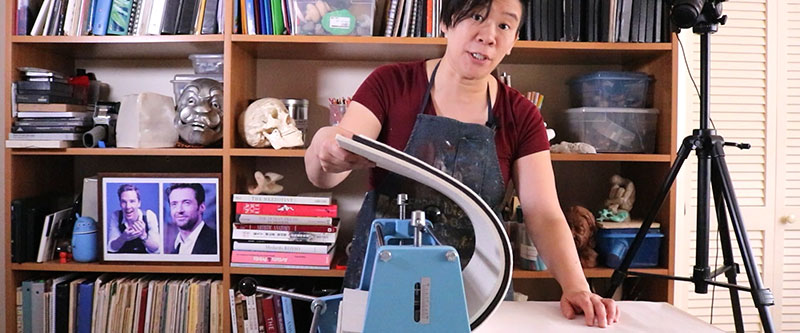 Through the lens of my personal experience, I seek to open and foster a dialogue about mental illness; not from an objective distance, but from the understanding and intimacy of shared pain.
Teaching
From 2007-2020, I taught as an Adjunct Professor at the Rhode Island School of Design teaching in Illustration, Printmaking, Foundation Studies, and Painting.
For 7 years, I taught at RISD Project Open Door, a free college access program for urban teens in RI in the department of Teaching + Learning in Art + Design and in the RISD Pre-College Program.
In the past I have taught at the School of the Museum of Fine Arts, at Wellesley College, and at the Lesley University College of Art and Design. I was the Director of the Jewett Gallery for three years where I curated, organized, and installed both professional and student exhibitions.

Lectures
I have done faculty training and lectures at Brown University, the RISD Museum, Simmons College, the Cape Ann Art Museum, the Fitchburg Art Museum, the National Art Education Association conference, the Attleboro Museum of Art, and more.
I wrote Ask the Art Prof, an advice column for visual artists in the Huffington Post.
I have written articles for the New York Times, Education Week, Artist's Magazine, and my artwork has been published in the British Journal of Psychiatry and in The Figure: Contemporary Perspectives.
Exhibitions & Collections
My artwork has been exhibited at the International Print Center New York, Bromfield Gallery, the Danforth Museum of Art, Mark Miller Gallery, the Currier Museum of Art, Childs Gallery, and the Davis Museum.
My prints are in the collection of the Hood Museum of Art and the Barbara and David Stahl collection.
Grants & Press
I have received artist grants from the Massachusetts Cultural Council, the Berkshire Taconic Community Foundation and the Puffin Foundation.
Art Prof has been profiled in Art New England, WBUR, Hyperallergic, Two Coats of Paint, WCVB-TV's Chronicle, and Artscope Magazine.
Studio Playlist
NOTE: The artwork featured in this post is intended for educational, instructional, and informational purposes only. It is not intended for promotional or commercial use and is not available for distribution, sale, lease, or license in any capacity whatsoever. The use of any trademark or service mark within the artwork or post is intended to be descriptive or nominative.
Unless otherwise stated above, nothing in this post should be construed to imply a commission, endorsement, or sponsorship by, or any formal connection, partnership, or affiliation with any brand, company, person, organization, or entity whose trademark or service mark is referenced in the artwork or post.