Art Prof is a community for learning visual arts.
Registration is open for our 1 day Premium Workshops!
Registration is due Sept 30 & Oct 14
Our content is 100% free!
Art Prof provides equal access to art education on a global scale.
We are removing barriers that exist due to the cost of higher education & online paywalls.
The Art Prof Family is one of all ages:
beginners, students, professionals, teachers, and more!
Live Streams
Hang out with us live on YouTube as we chat and demo diverse art topics.
Classes & Critiques
Buy a Critique or Artist Call
An artist call with one of our staff artists can provide advice that is customized to your creative needs. Purchasing a portfolio critique is a great way to get a fresh pair of eyes on your work and overall tips to improve.
We have editing services to help you with your artist statements, art school applications, and more. You can hire Prof Lieu to lecture on several topics including professional development and remote learning.
Art Dares
Every month, try something new through our art dares and learn with the community. We feature art dare participants in live streams and give out prizes!
Sept: Celebs as Monsters
Choose a celebrity and portray them as a monster.
Community
Art Prof Share
We love it when you create artworks in response to our content! To show what our community is making, we feature your artworks during our live streams to show your artistic growth.
Join the Art Prof Discord
Get daily support and answers from the Art Prof staff & an international community of artists of all ages and backgrounds who are dedicated to learning. Our discussions cover everything from artist wellness, process, business tips and more!
Stay Up-to-date
Join our mailing list and receive the latest Art Prof news in your inbox!
Support Art Prof
When you support Art Prof, you're helping artists who can't pay for an art class. All of our content is 100% free, and our budget relies entirely on donations.
Merch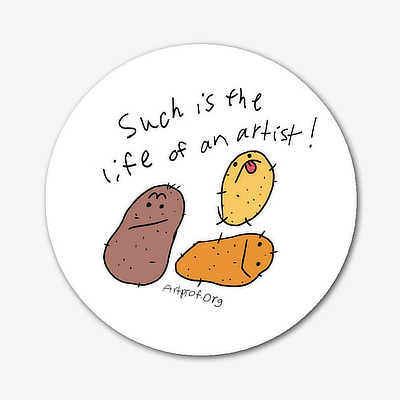 Our merch shop has nerdy art phrases on t-shirts, stickers, and more!
Donate
Pledge monthly on Patreon and get rewards and access to exclusive content and resources.
You can also make a one time donation via Paypal or send us snail mail.
Artwork
Purchase art made during our live streams on Etsy.