The complete Basics Curriculum for Self-taught Artists is a series of 3 videos.
If you're a beginner, this curriculum is a great way to get a comprehensive overview of the skills and topics you'll want to learn, regardless of what you want to ultimately focus on.
The Curriculum's document is a complete resource for all 3 videos.

Basics Part 1
Daily Sketchbook

Art Prompts
Art Prof Photo Reference Collection

Draw Along
Drawing from a Mirror
Gesture Drawing from Life
Drawing Spaces on Site
Ideas Brainstorming
Thumbnail Sketches

Basics Part 2
Study Artworks
Contextualize your art
Study Art History
Mastercopies
Study Contemporary Art

Contemporary Art Resources
Art Books

Study Composition
2D Composition
Shapes & Sizes
Subject & Mood

Basics Part 3
Craftsmanship
Elements of Art

Value
Line
Shape
Texture
Space
Form

Color Theory

Complementary Colors
Color Schemes
Purple & Yellow
Underpainting Techniques
Mixing Flesh Tones

Critique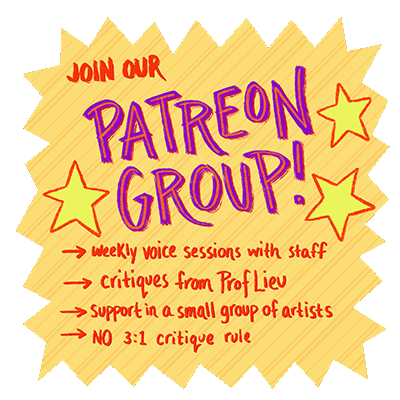 Stay Up-to-date
Join our email list and get the latest news!