Handmade artist books are lovely objects that can be very three-dimensional with techniques like the lotus fold and meandering fold.
This video demonstrates these two book folding techniques, which include book covers, archival book glue, paper, specialized tools like a bone folder, and more.
The end result is a beautiful handmade artist book which you can use for sketching, drawing, illustration, painting, and more.
Demo by Art Prof Clara Lieu and Guest Teaching Artist Caffrey Fielding.
---
Video Walkthrough
What is a meandering fold?
What is a lotus fold?
There are many options for book covers.
Be sure to figure out your measurements before you cut!
PVA glue is archival glue.
Bone folders are terrific for making neat creases in paper and evening out papers glued to a board.
Binder's board is really difficult to cut, take your time.
Creating the individual lotus folds, and assembling them together.
Meandering folds are very flexible, you can make them go in any direction.
Meandering folds can be a spiral, a zig zag, and more.
Combine the meandering and lotus folds to create a new fold.
Technique for how to get neat corners on your book covers.
Prof Lieu's Tips

I think it's often worth it to keep going with an artwork, even when you feel like the piece is a car crash.
I had a student who was doing this collage assignment, and it was a complete mess, she struggled so much with her glue stick, really had a hard time with the collage technique.
At my group critiques, I did have the expectation that students would bring in a finished artwork.
She was so embarrassed at the critique of her collage, but I commended her, because she finished the piece regardless even though she knew things were not improving with the collage technique.
That counts in my opinion!! Perseverance is so important as an artist.
Materials provided by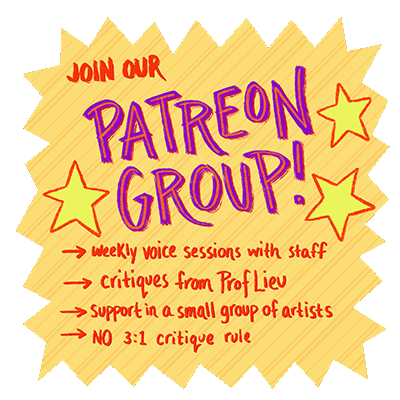 As a free educational source, Art Prof uses Amazon affiliate links (found in this page) to help pay the bills. This means, Art Prof earns from qualifying purchases.