The Drawing Basics Track is a great way to learn fundamental skills in drawing. You'll develop versatility in drawing by practicing everything from a two minute gesture drawing to drawings that take several hours to complete!
Ongoing • Lesson 1 • Lesson 2 • Lesson 3
Lesson 4 • Lesson 5 • Lesson 6
A broad range of subject matter is spread out in the track as well, providing opportunities to expand your visual vocabulary.
See our Drawing Curriculum, part of our Curriculums for Self-Taught Artists for a broader view. Visit our Drawing section for more related content.
---
Pacing
Do the track at your own pace! Taking the time to process the content is important, and so we don't advise putting pressure on yourself to finish the track quickly. Remember to have fun and enjoy the process of learning! Hear Prof Lieu's explanation of the track in this video.
Share your progress
Post your ongoing progress in the #artprof-tracks channel in our Discord, you'll get support and feedback from the community! Tag us @art.prof on Instagram with #artproftrack so we can share your work.
---
Ongoing Assignment
Ideally, this ongoing assignment is to be done simultaneously with the weekly assignments. However, if your schedule doesn't fit well with this, and you want to do the ongoing assignment at a separate time than the weekly assignments, our suggestion is to do the ongoing assignment for 3 weeks straight.
The continuity is important, so any time that you can draw daily for 3 weeks is great.
Prompt
Draw for at least ten minutes daily in your sketchbook. Draw anything you want!
Lesson 1
Prompt
Complete six hours total of drawing. Using a timer do two, five, and ten minute animal figure drawings.
Lesson 2
Prompt
Complete six hours total of drawing. Using a timer do two, five, and ten minute human figure drawings.
Lesson 3
Prompt
Draw a set of twelve diverse thumbnail sketches of "scenes" you observe in your living space.
Lesson 4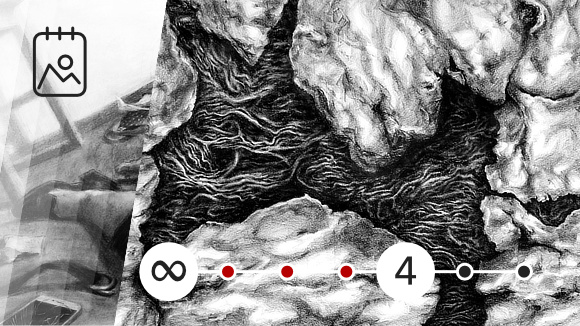 Prompt
Choose a manmade object, or an object from nature that has visible texture. Create a drawing that emphasizes the texture.
Lesson 5
Prompt
Draw a self-portrait using a mirror, in any black and white medium. Set up so that your face has dramatic chiaroscuro lighting.
Lesson 6
Prompt
Experiment with wet charcoal techniques, then create a drawing based on a landscape image from our reference photo collection on Flickr.
Finished?
Submit your track images + info via this upload form.
You can choose to receive a hard copy certificate from us via snail mail. (this includes international people)
We'll feature your track work in an Art Prof Share segment in one of our live streams on YouTube.
We'll post your name, a link of your choice, your slideshow, and video feature on the corresponding track page in our student gallery area.
---