Prompt
Draw daily for a minimum of ten minutes in your sketchbook. Pick up a pencil and physically put it on your sketchbook, don't think too hard about what you do. Even if you are scribbling the crappiest marks in the world for ten minutes that still counts!
This prompt is not about creating great artwork, it's about logging the pencil mileage and creating a habit that will accumulate over time. For ideas on sketchbook prompts, see the videos below.
Recommended media
Pencil, colored pencil, Caran d'Ache Neocolor I Crayon, any type of pen, markers. (any drawing medium that won't smudge is ideal for sketchbook work)
Sketchbooks can be any size you like. We advise getting a sketchbook that isn't "too nice" so you are more likely to make a mess and not get too precious with your sketches.
Artists for inspiration
Leonardo's sketchbooks, Prof Lieu's ugly, messy sketchbooks
10 Minute Art Prompts
How do you start a page in your sketchbook when you don't know what to draw, or feel unmotivated? (or both!) See a drawing demo which provides several prompts for how to get your creative juices flowing.
Contrary to the sketchbooks you see on Instagram, real artist sketchbooks are a mess, full of scraps of ideas, crummy looking doodles and drawings, and are rarely finished. Discussion led by Art Prof Clara Lieu, and Teaching Artists Alex Rowe and Deepti Menon.
Sketchbook Prompts
Prompt 1: Draw vertical lines, using marks as diverse as possible. Switch to horizontal lines.
Prompt 2: Draw what is right in front of you.
Prompt 3: Draw anything from our free reference photo collection on Flickr
Prompt 4: Draw from an art book, or any book with visuals.
Prompt 5: Blind contour self-portraits.
Prompt 6: Rip up an old artwork and collage it together to create a new artwork.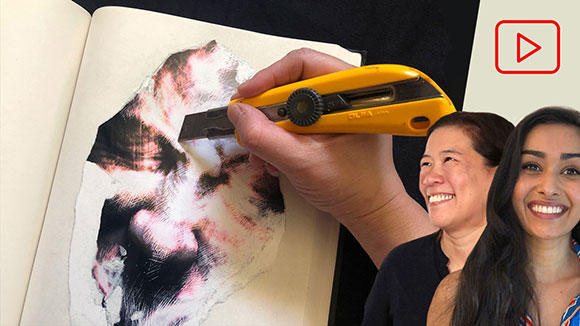 Share Your Progress
Post your ongoing progress in the #artprof-tracks channel in our Discord, you'll get support and feedback from out staff and the community!
Tag us on Instagram @art.prof with #artproftrack to show us what you make! We love sharing what you create in our Instagram Stories
Jump to: Week 1 · Week 2 · Week 3 · Week 4 · Week 5 · Week 6