Professor Clara Lieu presents a basic 3D design project using chipboard and glue guns to construct a sculpture which is an abstract representation of the artist's personality. Lieu begins with a brainstorming activity as a starting point for generating shapes and designs that will visually show an artist's personality. Cutting techniques with utility knives, shaping techniques with the chipboard, and construction methods with a hot glue gun are covered in depth.
Video Walkthrough
Creating an abstract sculpture out of chipboard
What makes a sculpture abstract?
Chipboard as a sculpture material
Brainstorming: Personality Traits
Translating the two personality traits into shapes
Compositing the sculpture in sketches
Arranging the shapes to create an exciting composition
Thick Chipboard
Thin Chipboard
Tools & Safety: Utility knife, kevlar glove, scissors
Utility knife: sharpening, safe disposal of blades
T-Square techniques
Cutting with the Utility Knife and T-Square
Cutting techniques
Cutting different sizes of shapes
Scoring techniques
Folding techniques
Curling chipboard
Composing the chipboard pieces
Glue guns & Safety
Hot glue gun techniques
Wall sculpture format
Trial & Error, Spontaneity
Caution
Utility Knives are extremely sharp and it's really easy to cut yourself by accident! Always wear a kevlar glove on your hand which is not holding the knife to prevent injuries. Hot glue guns can get really hot! Be very careful not to drip any hot glue on yourself while working. Always prop the hot glue gun up so the tip is not touching any surface.
Supplies
Some links on this page are Amazon affiliate links that Art Prof earns from qualifying purchases. These earnings help support Art Prof.
Responses
"This material allowed me to expand my creativity because of its flexibility and easiness of use. I started off by sketching ideas and shapes and then I began to think of where each shape would be, or which pattern I would want to use. In this case, it was harder because we had to use two adjectives that describe us and translate them into a sculpture.

The sculpture with swirls and silly looking represents the word 'curious.' For 'curious,'I decided to make it silly and kind of confusing, which the intent was to make the audience guess or wonder which word it represented!

I do not remember the adjective for the other sculpture. This sculpture was not so difficult to accomplish and what I really liked about it is the pattern I used for this sculpture. It does not have a variety of shapes unlike the other sculpture. They are completely different from one another and that is what I really like about them!"

Mica Furtado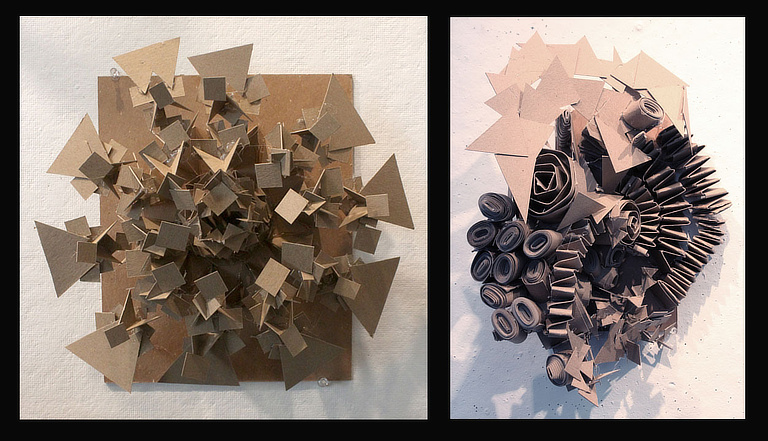 "The piece with round, curled shapes was a piece that defined my personality as being mysterious. The other spiky piece represents my curious side."

Aleida Gomes