Drawing a wide range of facial expressions is a great skill for character design!
In this drawing tutorial, prompts for different facial expressions are provided: confused, furious, disgusted, heartbroken, and flirty.
This video explores different ways of achieving a expression with Procreate.
Demo led by Teaching Artists Deepti Menon and Jordan McCracken-Foster.
---
Video Walkthrough
Using word prompts to get ideas for facial expressions.
Words: confused, furious, disgusted, heartbroken, flirty.
Creating facial expressions for characters created in advance.
Make facial expressions into a mirror while you're drawing characters as a reference.
Act out your characters' emotions.
Using references will broaden your options for facial expressions.
How to draw a character expression sheet for a character design.
Balancing planning and spontaneity in the creative process.
Tropes in movies and TV shows.
Looking at facial expressions in comedians and actors for ideas.
You have to be willing to be silly when drawing characters.
Jordan's teacher made silly noises while drawing for inspiration.
How Deepti developed her style.
Have another artist's work available for reference.
Connecting specific facial features and their movements to emotions.
Designing a character who looks like you because of lack of representation in animation.
Addressing diversity in animated shows and characters.
Being aware of when you're using a cliche in your art, it can work!
Prof Lieu's Tips

What I have found with character design is people tend to be very safe and conservative with their designs.
You have to get yourself to draw a version of your character that is so totally ridiculous, that is not even close to what you want.
That's how you'll be able to see the range of how far you can push your options. Otherwise, those incremental baby steps you're taking in your character won't get you very far.
Examples
Artworks by James, Steen, Crissie, Robyn, Tamara
We want to share your progress!

Did you do this lesson?
Submit to have your work to be posted here on this page or mentioned in a live stream.
Software used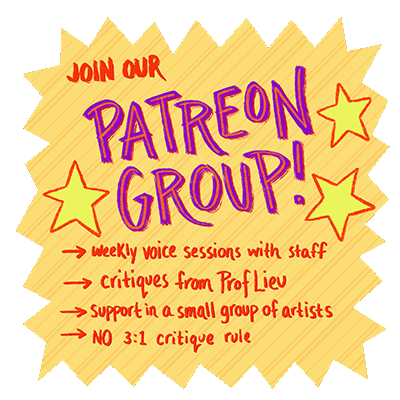 Films mentioned
As a free educational source, Art Prof uses Amazon affiliate links (found in this page) to help pay the bills. This means, Art Prof earns from qualifying purchases.