Your identity as an artist can be a powerful topic to create art from. This video talks about how to create compelling artwork from your culture, background, and identity as a person and artist.
Discussion with Art Prof Clara Lieu, Teaching Artist Jordan McCracken-Foster, and guest artist Dominick Cocozza.
Guest Artist
Dominick Cocozza
Dominick Cocozza is a Guatemalan American emerging artist based in Arlington, Virginia. Cocozza is a current undergraduate student studying Painting at the Rhode Island School of Design.
He has exhibited work in the United States Capitol building, Smithsonian Hirshhorn Museum, the Phillips Collection Museum, and many regional private collections.
Cocozza's practice aims to expand societal perceptions of Latinx heritage, ancestry, and migration. In taking inspiration from first-hand experiences, Guatemalan culture, and adoption narratives, his works embrace conversations of intersectionality and identity politics.
His artistic practice encourages viewers to explore their positionality and surroundings to develop a cultural sensitivity towards others. Additionally, Cocozza's work engages Indigenous historical dialogue to provide positive visibility for marginalized communities.
Video Walkthrough
Creating artwork from your identity can create compelling subjects.
Your identity is your story, no one can take that from you!
Identity can be interpreted in any number of different ways, depends on what you want to explore as an artist.
Making artwork about your identity can be very challenging, you will likely grapple with themes that aren't easy or straightforward to represent.
When an artist talks about their identity, it's a way to bring visibility to voices who may not be well represented in the context the art is seen in.
Jordan grew up watching many cartoon shows where there were very few, if any black characters.
In Dominick's case, Indigenous people and Latinx communities are rarely represented in art history.
Artists who create work about their identities are often unfairly expected to represent a large group of people.
In Dominick's paintings, he deliberately speaks from his own point of view: his experiences, and his story.
It's easy to fall into cliches when representing identities, getting as specific as possible is a way to avoid that.
Creating artwork about identity can get complicated and dicey in certain situations as you cannot control how people will react to your artwork.
You do have a responsibility as an artist to do your research when representing cultures, communities, etc.
Make sure you are "fact checking" in your artworks to be sure that you aren't being inaccurate with your images.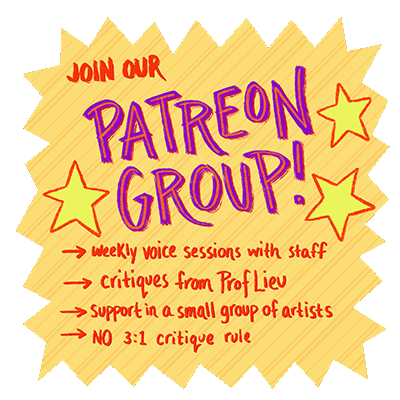 As a free educational source, Art Prof uses Amazon affiliate links (found in this page) to help pay the bills. This means, Art Prof earns from qualifying purchases.