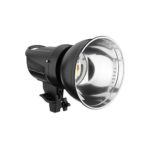 Lighting Option #2: Great to have
YICOE Softbox Lighting Kit
Soft box allows for diffused light that spreads evenly. Comes with remotes that have settings for warmth and brightness.
Essential
Blue Snowball iCE USB Mic
Most people don't realize that good audio quality is MORE important than good video quality. Poor audio can cause people to stop watching, whereas most people are willing to tolerate moderate quality video.
Essential
Logitech C922x Pro Stream Webcam
Use a rubber band to attach the webcam to the mic stand. Being lightweight, the webcam will sit just fine in an overhead view. The angle of the webcam can be adjusted without having to move its position.
Optional
2nd Computer Monitor
Not required, but really helps when you have OBS, YouTube, and other windows open simultaneously.
Essential
Blue Painter's Tape
Use tape to mark the position of your chair in relation to the set up. Make sure you are sitting in a chair with no wheels so you can mark the position of the chair.
DSLR Camera
Overkill & is much heavier than a webcam, which limits your options for how you can position it. A DSLR really requires a very large, high end tripod to allow for flexibility of camera angles while keeping the DSLR securely mounted.
Octopus Tripod
Appears very flexible, but is impossible to get into a stable position that you can replicate consistently, making it very inefficient and unpredictable.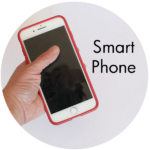 Smart phone
Battery power is a problem, tough to adjust camera
angle because you have to reposition the entire phone, not easy to connect to OBS: requires an app you have to pay for, plus a plugin that you have to install into OBS.
GoPro
Tripod is very too short. GoPros have a wide angle lens, which creates a fisheye effect, so your videos will have lot of distortion, making it tough to see accurately.  The closer you get to an object, the greater the distortion.GoPros are make for fast action, they are not effective as stationary cameras.
Links on this page are Amazon affiliate links that Artprof.org earns from qualifying purchases.