Table of Contents
We have compiled several art school portfolios here for you to see the broad range of ways you can approach your own portfolio!
We know it can be intimidating at times to see other student's portfolios and to get discouraged, know that ALL students applying to art school feel that way, you are not alone!
Art Prof Teaching Artist
RISD 2010-2012, Purchase College 2015
"I don't think I was technically very skilled, but I liked to be cheeky with the concepts in my work, and that made people laugh.

I think it's really important to go beyond making art that looks pretty or realistic.

Your art school portfolio is more memorable if you insert some of your own personality into it. It's okay to make it nerdy or dorky. In fact, that's what people end up loving the most."
Art Prof Teaching Artist
RISD 2017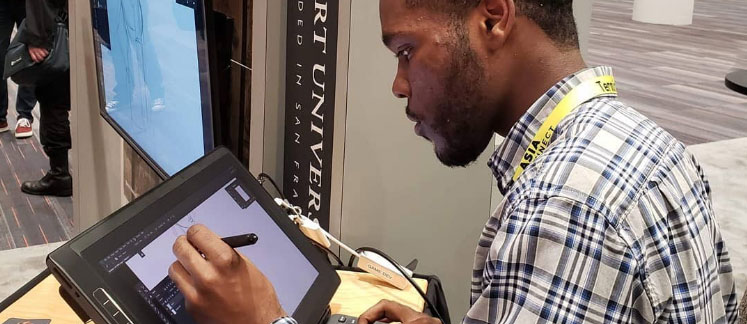 "Preparing my art school portfolio was really stressful. Mostly because I didn't realize what an art school portfolio really was.

Thankfully, I had high school art teachers that really helped me out with this process. They helped me to go through my best pieces and explained to me why some pieces worked better than others.

One of the more unique aspects of my art school portfolio was a short 15-second animation I made while taking a summer pre-college class in animation.

I only had 2 weeks to make it, but I think it was one of the highlights of my art school portfolio.
Join our 2023 Art School Portfolio Group!
Our Art School Portfolio Group provides ongoing support and feedback from our staff of professional artists for students applying or transferring to a BFA, MFA, or post-baccalaureate program.
This group is available now through March 31, 2024.
To participate, you'll need to 1) join our Discord server and 2) pledge on our Patreon.
Cecilia Cao
"Creating an art school portfolio certainly was not easy; it required significant dedication and planning.

Everything had to be carefully considered, from the materials I used to seeing how the artworks interacted.

I wanted to make sure that the people viewing my art school portfolio had a good grasp on my skill and familiarity with all mediums, as well as my ability to think conceptually."
Victoria Lin
"Preparing for art school was less than a piece of cake, but in hindsight could have been much more difficult.

In high school, I was in an intensive arts program for all four years (almost like AP art class) in which class assignments could easily end up as portfolio pieces as well.

I didn't take extracurricular art classes, so the initiative was on me to find time outside of school to produce works more personal to me.

The main goal of my portfolio was to give the judges a sense of my technical abilities as an artist, but also of my personality as a student and as a person."
Natalie Linn
"Making my art school portfolio was hectic and MISERABLE. I spent 3 straight months just churning out as much art as I possibly could.

So it's important to find a way to make yourself relatively happy and comfortable as you're pursuing these harder elements of your work, so that you're able to actually progress rather than beat yourself up to the point where you can't keep going.

When I was really struggling, I didn't really want my teachers or my parents to see the work that I was putting out, but I was able to upload it online.

The feedback that I got was really positive, and that really enabled me to keep going when I was really, really hard on myself."
Tatiana Florival
"Preparing my portfolio for art school was made much easier by being in an AP Art Class.

My high school art teacher was an amazing and proactive woman who required us to take high-resolution photographs of every piece we made.

Having that documentation when time came to assemble an art school portfolio was really useful.

Breaking down my art school portfolio like this took away a lot of uncertainty, and was a great way to make sure that I incorporated both my artistic technical skills and personal thematic expression."