You need to make sure that your portfolio represents a diverse range of art media.
Showing many art media is a way to demonstrate that you have taken the initiative to learn and hone skills in contrasting art media.   
Step outside of what you see everyone else in high school doing, which is probably limited to more commonly known art supplies like acrylic paint and pencils.
There are SO many art supplies!
There are so many advantages to trying out new art media: you'll gain a diverse, valuable set of skills as an artist and perhaps discover something along the way that you truly love!
Of course, not every art media is going to be your cup of tea, but don't knock it until you've tried it!
Pencil is not the only drawing media
There's an assumption among many high school students that drawing means pencil drawing only.
There are so many more drawing media than just pencil that it can be baffling to see high school students so unwilling to try anything else.
Crayons, conte crayon, markers, soft pastels, oil pastels, oil bars, india ink, Rapidograph pens, brush pens, charcoal, graphite powder, water soluble colored pencils, and much, much more.
Experiment with surfaces
Don't stop there, you can experiment with many different types of surfaces to draw on. The surface you draw on can completely transform your experience with your art media and should always be considered.
Need help with your portfolio?
You don't have to prepare a portfolio all by yourself!
We provide professional feedback and support through portfolio critiques, artist calls, artist statement editing, and personal art curriculums.
In some cases, there are certain surfaces that will make your life unnecessarily difficult. For example, many students use newsprint for charcoal drawing.
Newsprint is awful for charcoal drawing, erasing charcoal on newsprint is a nightmare, and the newsprint is too thin and fragile for rigorous drawing. Instead, use charcoal paper, which has a slight tooth that "grips" the powdery charcoal well and has a beautiful texture to it.
Some terrific options are black mat board, (useful when using color drawing media) Bristol Board, (great for comics and illustration) watercolor paper, Yupo paper, (a translucent paper that works great with liquid art media and markers) charcoal paper (much better than regular drawing paper when using charcoal) and more.
Every art supply has a different voice
You'll find that every single art media will bring out a different side of you as an artist.
Every art supply out there behaves in it's own special way and it's exciting to see how your creative process might change depending on what you're working with.
Stay Up-to-date
Join our email list and get the latest news!

Many art media influence each other in different ways that can be exciting and wonderful.  If you have strong skills in charcoal drawing, try doing animation with charcoal! 
If you have enjoyed acrylic painting, perhaps painting with gouache can get you to exercise a whole new set of painting "muscles."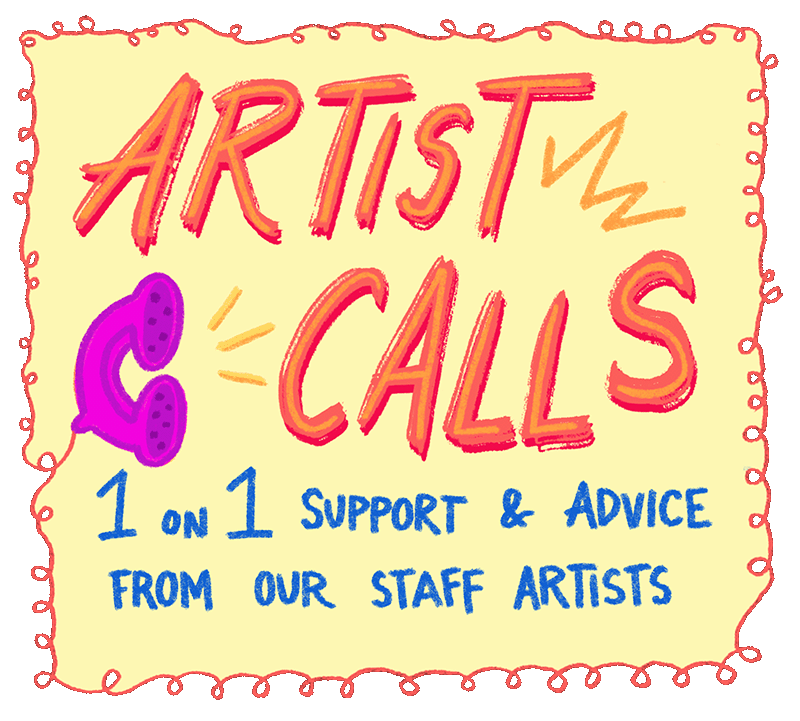 Perhaps you have worked largely in two-dimensional media, dipping your skill set into sculpture could enhance your skills in two-dimensional media.
Try not to make assumptions about new art supplies, it's easy to assume before you've tried an art supply that it's not going to work for you, but how can you be sure until you've actually tried out the supply with your own bare hands?
Give every new art media a chance, spend some time with the art media, and see where it goes.
Use a wide range of art media
This is your chance to show the admissions officers that you have more than one skill set, and can move fluidly from one media into the next.
There are so many fields within visual arts that you can include: drawings, photography, paintings, sculptures, mixed media, collage, digital media, animation, printmaking, clay, video, character & creature design, jewelry, illustration, installation, artist books, comics, or any other formats or media you have worked with.
Remember that for every area of visual arts, there are so many sub categories and variations on different techniques!
Even in a relatively small area of visual arts like artist books that seems like it can't get any more specific, there are so many different ways to make a book: the lotus fold, the Coptic stitch, and much more.
There are infinite ways to do animation: procreate, charcoal animation, animating by drawing on a 3D object, pixilation, and more.
Look beyond the art store
Certainly, there are lots of good reasons to experiment and try out all different types of combinations of supplies, and you definitely shouldn't limit yourself in terms of what material can go with what.
One way to really go further with your supplies is to consider supplies that aren't even at the art store. Teaching Artist Lauryn Welch mixes coffee grounds into her acrylic paint to create a gritty texture for her paintings.
The coarseness of the coffee grounds created a sculptural dimension to her acrylic paint, allowing her to create a painting that was more like a relief sculpture than a typical acrylic painting.
Make your own art supplies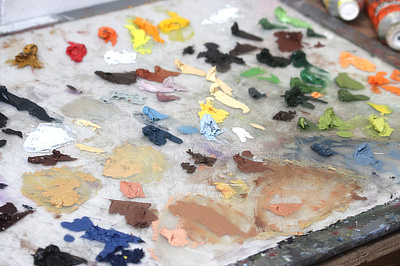 There are many hacks to being an artist as well. There are some items that are sold at an art supply store which can be easily purchased at a grocery store for much less.
Those disposable painting palettes you can buy at the art supply store are much more expensive than buying freezer paper from your local grocery store!
Or, make your own glass palette; most art supply stores don't carry them, or if they do, the quality is not good.
Archival Materials
However, there are specific circumstances where specific materials simply cannot be used together for archival reasons: if you are doing an oil painting, you cannot paint a layer of oil paint and then add a layer of acrylic paint on top.
Oil paint can be painted on top of acrylic paint, but not the other way around. Don't know the difference between oil paint and acrylic painting?
Watch our video which explains all of the technique differences and similarities. In oil painting and acrylic painting, there are some really important technical aspects that you need to know about to use the materials safely.
Need help with your portfolio?
You don't have to prepare a portfolio all by yourself!
We provide professional feedback and support through portfolio critiques, artist calls, artist statement editing, and personal art curriculums.
Explore surfaces
If you are stretching a canvas to paint on, you'll have to make sure that there is a primer (such as acrylic gesso) painted on the raw canvas before painting on the canvas. The video on the left provides multiple ways of preparing surfaces to paint on.
Canvas can get pricey, so other options such as stretching printmaking paper or watercolor paper, painting on wood or masonite, etc. are really good to know about. All of these options are explored and demonstrated in this video on the right.
Often times, half the problem that students have with their artwork is simply having the wrong supplies, or not knowing that a particular tool existed that could solve all of your problems.
Include black & white and color
Make sure that you have both black and white artworks as well as artworks that display a full range of color. Black and white artworks are important so that you can demonstrate an understanding of a wide range of tones and value, and to explore contrast and lighting.
The color artworks you show in a art portfolio should demonstrate that you can either layer or mix colors and get beyond painting with colors that come "straight out of the tube."
Experiment with a wide range of different color schemes. You can include some monochromatic artworks, some pieces that have a more subdued color palette, or a pieces that use highly intense, saturated colors.
Consider the brand
Keep in mind though that the brand that you purchase of these color media really matters.  In some cases, for art supplies, the brands don't make a difference.  For ex
ample, if you need to buy a ball point pen, the brand really doesn't matter at all. However, with supplies like soft pastels and acrylic paints, you definitely get what you pay for.
Need help with your portfolio?
You don't have to prepare a portfolio all by yourself!
We provide professional feedback and support through portfolio critiques, artist calls, artist statement editing, and personal art curriculums.
There are so many awful acrylic paints on the market, and if you can, it really is worth the extra month to ensure a good quality material. Some art supplies are such poor quality they actually are not an accurate representation of what a media actually does.
Poor quality art supplies can create problems for you that simply won't exist if you are using higher quality supplies.
For example, the best brand of soft pastels is Rembrandt, but be aware that this brand is expensive, especially if you want to purchase a large set. A more affordable brand that has decent quality for soft pastels is Prismacolor NuPastels.
NuPastels won't have the subtle nuances in color and texture the way the Rembrandt brand will, but they will get the job done and produce decent results.
See the Rembrandt pastels in the video below from our tutorial How to Draw an Imaginary Environment.
---
3D artworks stand out
The vast majority of students will not have 3D art media in their portfolio, and the few who do have 3D artworks in their portfolio usually do not have pieces that are of high quality. Unless you have professional guidance from an experienced art teacher, 3D art media is exceptionally tricky to work with.
Getting the appropriate tools and materials for 3D media is very challenging, it's rare that an art supply store will have everything you need to work in 3D art media. You'll probably find yourself spending more time at the hardware store when working with 3D art media.
Techniques & tools matter in 3D art
There are many technical challenges that simply aren't issues with 2D media; you don't have to worry about your 2D drawing toppling over because the structure is too weak!
Even materials that seem like they should be straightforward are not, for example, choosing the right adhesive for the material you're working with is usually not obvious.
That doesn't mean you shouldn't try! You're in luck because here at Art Prof, we have many prompts that use 3D art media and which provide the information and guidance necessary to get successful results.
Stay Up-to-date
Join our email list and get the latest news!