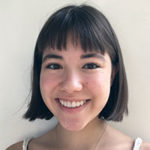 "Acrylic paint is one of my favorite mediums, but I still feel very new to it. I wanted to explore with texture, and since fish are slimy and wet, I could experiment with how I would create that effect. Bright colors are also not something that I am too familiar with, so I learned a lot from this piece!
I had a lot of fun layering the colors to create a scaly look, and I reckon the white highlights communicate well that the fish is shiny."
"I love acrylics because they're so smooth, shiny and rich. And by mixing them with other materials, you can achieve a wide range of textures!
I don't like fried squid, so I chose to do my own version–korean fried chicken. I loved making this piece because it made me see painting (and mixed media artwork in general) in a new way I haven't tried before. I used a mixture of coffee grounds and chia seeds to make the fried chicken, some wrinkled and painted tissue paper for the lettuce and kimchi, and put some white acrylic in a plastic bag with a small hole cut at the end. This way, I could squeeze out thin ribbons of paint, so it would dry in 3D strings just like the stringy shredded lettuce in my favorite kimchi coleslaw I typically serve with korean fried chicken. 
I even added real sesame seeds sprinkled on top to make it more realistic. I really learned a lot from this project, because I got to test the limits of the paint and have fun seeing what kinds of textures I could alter it to express."
"I was a bit stuck at when it comes to creating depth, and differentiating the plants- but I just changed the hue of the paint by mixing them and that did the job!
The most memorable part of this experience was using the new texture element in my work. For the cactus pricks, I used toilet paper and for the sand I used some chia seeds mixed with acrylic and topped with salt!"
Links on this page are Amazon affiliate links that Artprof.org earns from qualifying purchases.