See a drawing demo on how to draw a portrait in profile.
Explained are tips for how to create a convincing portrayal of a profile, including what facial structures are important to emphasize.
Techniques for rendering light and shadow to create a convincing portrait are discussed as well.
Demo by Art Prof Clara Lieu and Teaching Artist Jordan McCracken-Foster.
---
Video Walkthrough
Is it not a good idea to have many unfinished artworks lying around?
Sometimes it's not worth forcing yourself to draw because it can create a really unpleasant experience.
As an artist it's important to have a "sand box" that you can experiment within to make artwork just for yourself.
A profile is inherently a more "flat" view of the head and there is sometimes "less to draw."
Each feature in the profile carries a lot of weight because it's simple.
A 3/4 view of a head can be more challenging as there is a lack of symmetry.
How do you balance between speaking while you teach and making artwork at the same time?
Prof Lieu intentionally speaks at a much slower speed when teaching, it can help you gather your thoughts.
It's very helpful to see multiple approaches to the same topic, each artist has their own way of tackling the image.
Making artwork that doesn't carry any expectations from a job, a commission, etc. is important.
When Prof Lieu begins a drawing, the top priority is to capture the biggest shapes and stay loose.
An effective drawing exercise is to try to draw a portrait entirely in tone.
Drawing live on a stream can be terrifying, but once you've done it a bunch of times it helps you sit back and be more relaxed with your drawing.
Prof Lieu's Tips

I think it's great when it's great when you realize that you have a lot to learn, it means that you're getting pushed outside of your comfort zone. It's an odd thing, but the more you learn, the more you realize how much you don't know?
Always draw the neck, often people are convinced that they don't need the neck because they are so focused on the face.
I think what the neck does is it contextualizes the angle and tilt of the head, which is hard to see if it's not there.
Art Supplies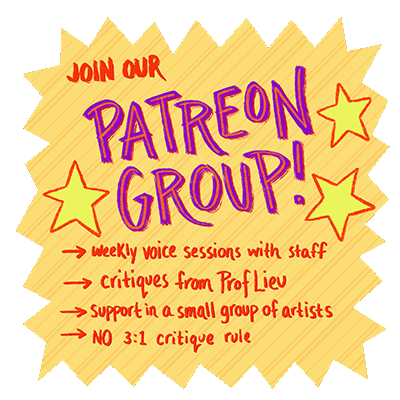 Materials provided by
Software
As a free educational source, Art Prof uses Amazon affiliate links (found in this page) to help pay the bills. This means, Art Prof earns from qualifying purchases.