Tips
Search for overlaps in the figure, where do you notice a muscle or bone that is in front of another? Think about the figure as if you were a sculptor, concentrating on where the forms of a figure are in space in relation to each other.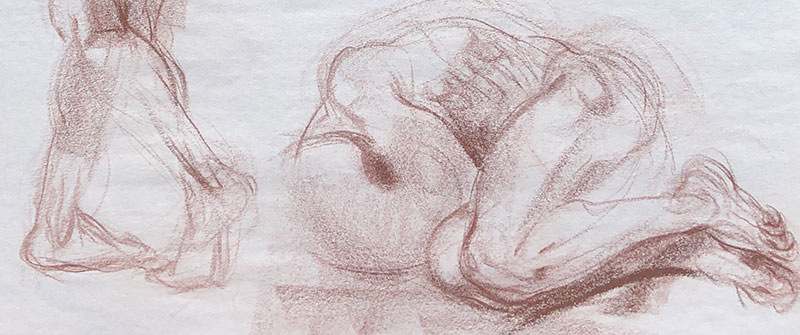 Try to distinguish between bone and muscle when you look at the figure, identify as many as you can while you draw.
---
Anatomy Book
It's helpful while you are drawing to have an anatomy book and/or your anatomy notes out so you can reference them. We recommend Dr. Paul Richer's Artistic Anatomy.
Anatomy Lectures
Reference Images: Foreshortened Figures
Inspiration
Dead Christ, Andrea Mantegna, 1480-1500
Study of a man standing, Jacopo da Pontormo, 1522-1525
Crucifixion of St. Peter, Caravaggio, 1600
Supper at Emmaus, Caravaggio, 1606
Male Nude, Paul Cadmus, 1954
Foreshortening Tips for Figure Drawing
Drawing Foreshortened Legs
As a free educational source, Art Prof uses Amazon affiliate links (found in this page) to help pay the bills. This means, Art Prof earns from qualifying purchases.