Showing your face on social media can be really effective to cultivate a following online.
However, many people are nervous and / or intimidated about showing their faces, and unsure how to go about taking photos of themselves that will serve their needs.
Get tips on how to shoot selfies and edit them to use on social media. Discussion led by Art Prof Clara Lieu and Teaching Artist Jordan McCracken-Foster.
Video Walkthrough
People are naturally drawn to faces on social media.
Selfies are difficult to shoot! They are often at odd angles and are tough to do well.
To get a good selfie, you probably need to shoot 20, and then pick the best one.
One of the most common problems with selfies is poor indoor lighting.
Natural light looks much better, and the color tends to be a lot more accurate.
When you show your face on social media, it lets your viewers into your world, and connect with you socially.
Sometimes intentionally not showing your face can feel evasive to a viewer.
You don't have to be in your 20's and gorgeous to show your face, in fact it's important that people of different ages and backgrounds are seen.
Showing your hands using your materials is a great way to photograph images for social media, but it's a gigantic different to show your face.
Privacy and safety are a concern, especially for artists who are under 18.
We don't recommend that artists under 18 show their faces online.
When people discover a new artist on Instagram, a lot of people will look for a photo of the artist on your profile page first.
Ask yourself: how is a photo without a face, different than a photo with a face?
Get creative with photos of yourself: show yourself with friends and colleagues, family, silly photos from your childhood all help your audience connect with you.
Make shooting photos fun for yourself, it's pretty obvious when someone is uncomfortable in a photo.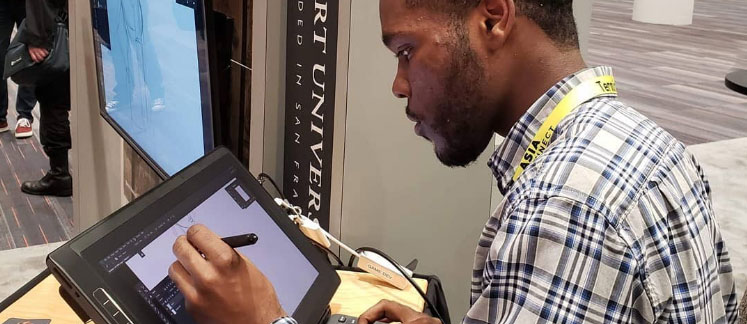 Prof Lieu's Tips

I once was going to sign up my kid to take a comics class. There were 2 teachers for this comics class, so in order to decide which teacher to choose, I looked both up online
One artist had a website with a nice photo of them. The other artist had no photo of them anywhere, and I looked on several of their sites. Guess which teacher I signed my kid up for.
Artists Mentioned