Prompt
Make a 3D object to serve as a visual reference.
Observe the 3D object from life and create a drawing as a response.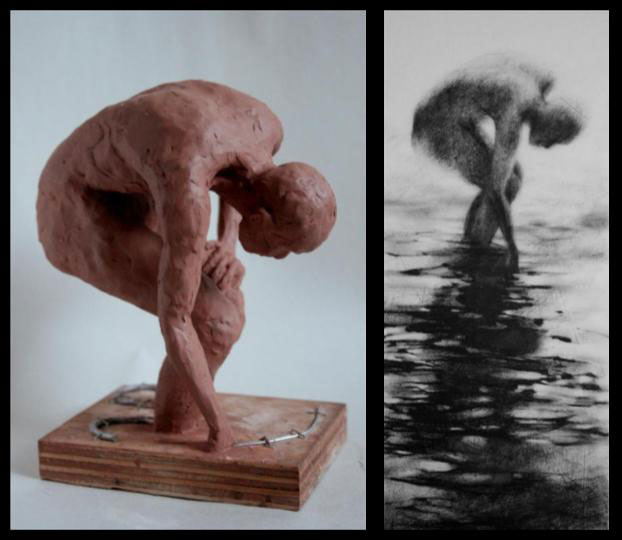 Creating the 3D Reference
Your 3D reference can be abstract, it doesn't need to like anything recognizable.
The 3D reference doesn't have to be a super polished object, details may not be necessary and might even be distracting to the drawing process.
Cheap materials like aluminum foil, toothpicks, etc. can work well.
Try combining a range of materials, anything goes!
Visit our 3D area and our DIY art supplies page to get ideas for materials.
---
Examples
---
Lighting the 3D Reference
A small clamp light, or any light that you can easily move around to get different angles is ideal.
Turn off any overhead lights so the clamp light gets more contrast.
Get angles that are as different from each as possible: from above, from below, from the side, etc.
Photographing the 3D Reference
Try zooming in and zooming out very dramatically.
Hold your phone at unusual angles.
Tweak the photos in Photoshop before starting the drawing.
tips
The 3D reference is a starting point, where you end up in your drawing is up to you!
You can add visuals from other photo references
Inspiration
Alexander Ross, Andrew Raftery, Will Cotton
---
Thumbnail Sketches
Final Drawing
Be willing to push past the photos of the 3D reference.
Your drawing shouldn't look accurate to the 3D reference, transform it as dramatically!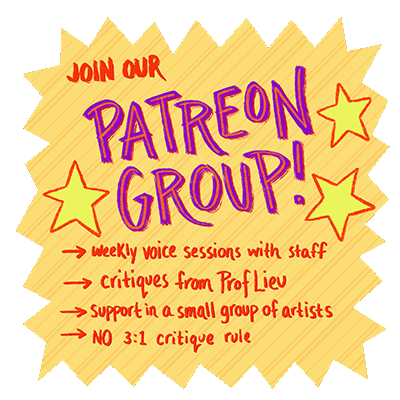 Highlights
Lighting can be a powerful visual tool in art! This video gets down to the nuts and bolts of how lighting works in an artwork, focusing on the specifics of different types of highlights and the various ranges of visual effects they create.
Examples from art history and contemporary art show how artists can apply their knowledge of highlights, both as a visual element and as a tool for narrative storytelling.
Discussion led by Art Prof Clara Lieu and Teaching Artists Cat Huang and Alex Rowe.
Shadows
This video explains how lighting works in art, focusing on shadows and breaking down the specific visual qualities.
Knowing how shadows work, and understanding the difference between cast shadows and form shadows are important skills for all artists in order to create a broad range of visual effects in many art forms.
Discussion led by Art Prof Clara Lieu and Teaching Artists Lauryn Welch and Alex Rowe.
Show us what you make!