Prompt
Choose one of your character designs from the ongoing assignment. Draw 5 contrasting facial expressions for that character using only line and flat colors.
Examples
James, Steen, Crissie, Robyn, Tamara
---
Facial expressions
confused, furious, disgusted, heartbroken, flirty, lethargic, anxious, jealous, nervous, disappointed, proud, perky, feisty, apathetic
---
Tips
Look into a mirror as you draw, try out different facial expressions in the mirror to get ideas for how to draw your character's face.
Consider what color scheme would be a good fit for the facial expression you are drawing.
Recommended software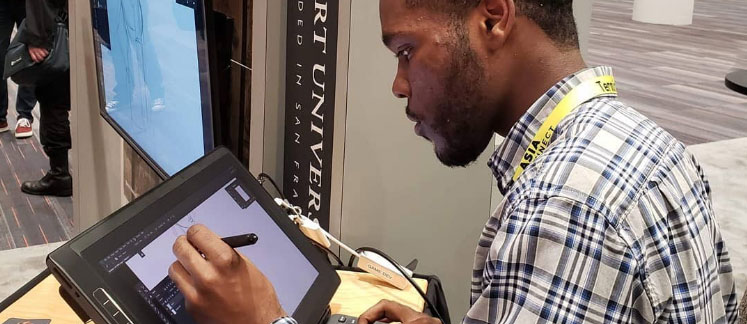 Procreate, Krita, Adobe Photoshop, Clip Studio Paint, Paint Tool SAI, Adobe Fresco, MediBang Paint, Gimp
Inspiration
Seung Eun Kim, Mr. Men & Little Miss books, Al Hirschfeld, Honoré-Victorin Daumier, Philip Burke, Mort Drucker, Robert Crumb
We want to share your progress!

Did you do this lesson?
Submit to have your work to be posted here on this page or mentioned in a live stream.
Character Design: Facial Expressions
Drawing a wide range of facial expressions is a great skill for character design! In this drawing tutorial, prompts for different facial expressions are provided: confused, furious, disgusted, heartbroken, and flirty.
This video explores different ways of achieving a expression with Procreate. Demo led by Teaching Artists Deepti Menon and Jordan McCracken-Foster.
Color Palettes for Characters
Show us what you make!