Prompt
Create a collage using hand painted papers to create a portrait of a room where you live. This prompt is all about how to play with color through shapes and patterns.
Choosing a room
Take several rooms under consideration, and think about which has the most visual potential to explore color, pattern, and shape.
Ask yourself what your personal connection is to that room, and what the mood of that room is. Is this room comforting to you, is it bright or dark?
Think about the lighting in the room, does this room get flooded with sunlight? Is it darker and more enclosed? The lighting can greatly impact the colors in the room.
Examples
Neil, Helen, Croo, Anna, Staley, Neil Espinosa
---
Pattern Tips
Consider whether your patterns are organized and neat, vs. being random and chaotic.
Make sure you have a full value range in your painted papers, especially dark values which are easy to forget about.
Play with both transparency and opaque paint and consider how to layer them over each other.
Collage Tips
Aim to have a broad range of sizes in your cut out shapes: cut very large shapes, medium shapes, and tiny shapes.
Delay gluing down your cut shapes, have fun moving the pieces around the page and seeing how they look in different configurations.
How you overlap your cut pieces can make a difference in terms of what shapes get pushed back and which come forward.
Composition Tips
Be conscious of balancing visually busy areas with more "quiet" areas for the eye to rest.
Very large collage pieces can be very helpful to balance out very busy areas.
Recommended Supplies
You can use any supplies or paint you want, however, below is a list supplies that are especially useful for this prompt.
Related tutorials
collage inspiration
List of collage artists, Hannah Höch, Kurt Schwitters, Max Ernst, Mickalene Thomas, Nick Bantok, Njideka Akunyili Crosby, Sarah Sze, Sebastian Blanck, Stephen Kroninger, Tschabalala Self, Wangechi Mutu, Ezra Jack Keats, Eric Carle
Patterns inspiration
William Morris, Moorish Architecture, Lalla Essaydi, Gustav Klimt, Anni Albers, Owen Jones, Lucienne Day, Jacqueline Groag, Andrew Raftery, Mary White, Marimekko, Laura Ashley, Zika Ascher
Part 1 — Paper Preparation
Step 1
Cover entire sheets of the mixed media paper (or any similar paper) with a base color or gradient, using a wide brush. It's okay if the paper warps.
Paint at least five different tones of paper. Paint some papers with opaque paint, and paint some with transparent paint. Allow the papers to dry.
---
Step 2
Paint patterns over the first layer of paint. Try an opaque pattern over a transparent base, and vice versa.
Consider the relationship of the base color with the color of the pattern on top.
Experiment with unconventional tools like a hair comb, a branch, etc. Get ideas for acrylic effects and watercolor effects.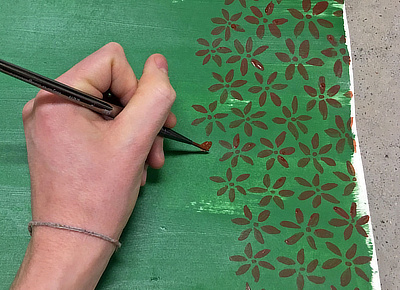 ---
Part 2 — Composition
Step 3
Shoot at least 20 diverse reference photos of the room you want to portray. Select the photo you want to use, make sure it's available for you to reference as you work.
Step 4
On a large piece of Bristol board, (or any similar paper) loosely sketch the composition with a pencil. Stay focused on the big shapes.
---
Part 3 — Collage
Step 5
Organize your painted paper into groups of light and dark pieces.
---
Step 6
Using scissors or an x-acto knife, cut the paper to match the big shapes in your pencil sketch.
Be sure to cut your pieces a little bigger than you need. You can always cut more, but you can't add the paper back once it's gone.
---
Step 7
Lay out the pieces of painted paper on your Bristol board. Glue the big pieces on the Bristol with a glue stick.
Step 8
Cut, layer, and glue smaller shapes on top of the big shapes.
---
Step 9
Paint a thin layer of Mod Podge to make a sealed, cohesive surface. (optional)
---
Elements of Art: Shape
This video explains SHAPE, one of the Elements of Art. Shape can be a powerful visual tool for creating dynamic compositions. Examples of illustrations, paintings, sculptures, and more are shown, where shape plays an integral role.
Discussion led by Art Prof Clara Lieu and Teaching Artist Deepti Menon.
Visual Journaling
Visual Journaling is an easy, effective visual exercise. You can do it on a regular basis as a refreshing way to renew your artistic thinking and process. This video talks about different techniques for creating mixed media collages in a visual journal.
This includes: searching for imagery in art magazines, using photo copies from books, stickers and rubber stamps. Demo led by Teaching Artist Lauryn Welch and Art Prof Clara Lieu.
Watercolor Effects & Tricks
This video shows a wide range of materials, techniques and tools for creating diverse effects in watercolor. You'll learn how to create many visual effects in watercolor. Like how to achieve various textures, lines, and strokes.
How to use other, unconventional tools. All of these techniques can be used to create a visual language for any style of painting. Demo by Art Prof Clara Lieu.
Show us what you make!