Prompt
Draw 3 sets of 5-10 min. drawings which address line and tone. Include the head and neck.
Set 1: line only
Set 2: tone only
Set 3: line + tone
Aim to draw 12 heads per set, for a total of 36 head drawings.
---
Reference Photos
---
Portraits by Photographers
Examples
Emily, Lisa H., Simpletriskell, Wadalafer, Triplegem, Ashley Tanelle
TIMED DRAWING VIDEOS
Practice with our timed drawing videos! Get your drawing supplies and follow along as each pose plays with a timer.
See all the timed videos here.
Art media
Use any traditional or digital art medium. For traditional media, try to avoid media that don't allow for a range of widths in your marks, like a mechanical pencil or ballpoint pen.
Drawing media like Conté à Paris Crayons are helpful for the tonal drawings. You can draw with the tip for thin lines and the side for broader strokes of tone.
Supply lists
Visit these pages for specific supply lists: colored pencil, conté crayon, graphite, soft pastel, oil pastel, pencil, charcoal. Explore a comprehensive list of all drawing supplies in Part 1 of our Drawing Curriculum.
Recommended Software
Digital Tool Recommendations list, Procreate, Krita, Adobe Photoshop, Clip Studio Paint, Paint Tool SAI, Adobe Fresco, MediBang Paint, Gimp
Hear from an Art Prof Student

"I thought I was bad at facial expressions and I still think they can be subtle and tricky to get right, but I feel a bit more confident with them now.

I know I can build it up, not have to get every line correct right away. I learned that a lot of art is a back and forth, give and take. It's gonna be ugly before it gets good. Sometimes just getting away from your art for a bit is key."

Jen Noelle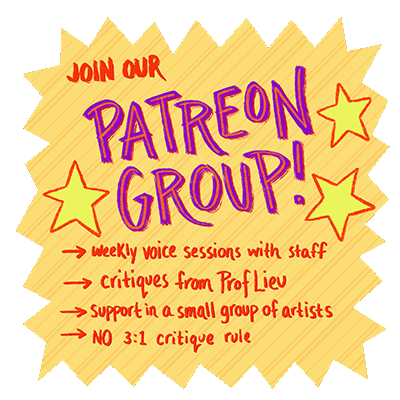 How to Draw a Profile Portrait
Top 5 Portrait Drawing Mistakes
Here are the 5 top mistakes artists make when drawing portraits. Mistakes such as not addressing the skeletal structure of the face, adding details too soon, starting with the eyes, nose, and mouth, etc.
The reasons why these actions can be considered mistakes are explained and then followed up with simple solutions. Demo by Art Prof Clara Lieu.
Artistic Anatomy Lecture: The Face
This video explains how to the structure of the head and neck are organized. All of the major bony landmarks are covered, as well as how to identify them on a person.
In addition to explaining how to articulate bones like the mandible, the zygomatic arch, etc., this lecture shows how to group these bones together to create a convincing portrait. Lecture by Art Prof Clara Lieu.
Show us what you make!