The Landscapes & Backgrounds Track provides a comprehensive exploration of the role landscapes and backgrounds can play.
Techniques like atmospheric perspective, lighting, texture, scale, and space will be addressed through various prompts.
Lesson 1 • Lesson 2 • Lesson 3
Lesson 4 • Lesson 5 • Lesson 6
Whether you do concept art, are a fine art painter, or a comics artist, you'll learn the fundamentals of how to articulate a convincing landscape.
Pacing
Do the track at your own pace! Taking the time to process the content is important, so we don't advise putting pressure on yourself to finish the track quickly.
Remember to have fun and enjoy the process of learning.
Show us what you make!

---
Art Supplies
We understand that many people have limited budgets for supplies, so our tracks are structured so that you can use any materials you want, within that track's focus.
Paint Media
Visit these pages for supply lists: watercolor, gouache, acryl gouache, oils, water mixable oils, acrylics.
Drawing Media
ballpoint pen/gel pens, dip pen, brush pen markers, Caran d'Ache crayons, graphite powder, colored pencil, soft pastel, oil pastel, pencil, charcoal, ink wash, scratchboard, wet charcoal, oil sticks
DIGITAL SOFTWARE OPTIONS
Digital tool recommendations, Procreate, Krita, Adobe Photoshop, Clip Studio Paint, Paint Tool SAI, Adobe Fresco, MediBang Paint, Gimp
---
Lesson 1
Lesson 2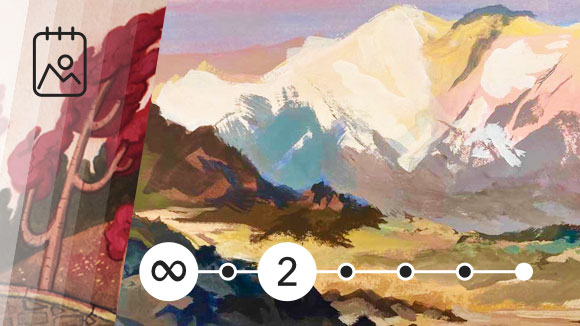 Prompt
Repeat a person or object within a space to show depth and scale with atmospheric perspective.
Lesson 3
Lesson 4
Lesson 5
Lesson 6
Finished?
---