Prompt
Create an imaginary underwater space.
Blend together a minimum of 5 reference photos.
Adding figures or creatures is optional.
Examples
Neil Espinosa, Wadalafer, Crissie, JenK
---
Reference Photos
Atmospheric perspective will be very useful in terms of achieving a sense of depth in your scene.
Consider how light behaves underwater, effects like caustic refraction are specific to underwater lighting.
Think about how deep the scene is. Is the scene very close to the surface of the water? Is it a deep sea scene?
---
Process
Building a mood board.
Thumbnail Sketches with line and value.
Color sketch.
Line sketch for final artwork.
Adding value for the final artwork.
Final artwork.
---
Aquarium Live Cams
Thumbnail Sketches
We recommend doing about 6 small thumbnail sketches to explore a diverse range of options for your composition. Start your first thumbnail sketches with line and think about how you want to place your subject onto the page.
Neil Espinosa, Wadalafer, Crissie, JenK
---
Inspiration
Aquaman, Moana, Finding Nemo, Ponyo, Flotsam by David Wiesner, Alexis Rockman, Song Kang
Paint Media
watercolor, gouache, acryl gouache, acrylic, oils, water mixable oils, ink wash, liquid watercolor, alcohol inks

Drawing Media
ballpoint pen/gel pens, dip pen, brush pen markers, Caran d'Ache crayons, graphite powder, colored pencil, soft pastel, oil pastel, pencil, charcoal, ink wash, scratchboard, wet charcoal, oil sticks
DIGITAL SOFTWARE OPTIONS
Digital tool recommendations, Procreate, Krita, Adobe Photoshop, Clip Studio Paint, Paint Tool SAI, Adobe Fresco, MediBang Paint, Gimp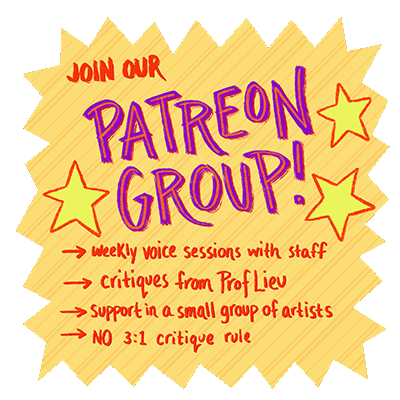 Scratchboard Drawing
Art Prof Clara Lieu and Guest Teaching Artist Song Kang demonstrate and explain all of the art supplies and drawing techniques you need to create a detailed scratchboard drawing from beginning to end.
Song demonstrates the broad range of lines and marks you can make on scratchboard using an etching needle, a scraper, sandpaper, and more.
Watercolor Effects & Tricks
This video shows a wide range of materials, techniques and tools for creating diverse effects in watercolor. You'll learn how to create many visual effects in watercolor. Like how to achieve various textures, lines, and strokes.
How to use other, unconventional tools. All of these techniques can be used to create a visual language for any style of painting. Demo by Art Prof Clara Lieu.
Adobe Fresco & Oil Pastels: Drawing Lobsters
See how to draw lobsters realistically using digital painting techniques in Adobe Fresco, and a mixed media technique using watercolor and oil pastel on Yupo paper.
Working from detailed reference photos, tips are explained for how to capture the color variations and textures in a lobster. Demo by Art Prof Clara Lieu and Guest Teaching Artist Mia Rozear.
Show us what you make!